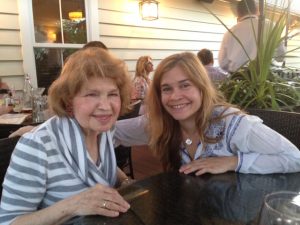 In addition to reading the information below, please also HOVER OVER THE CAREGIVING & SUPPORT TAB on the home page and click on the STATE to access the MANY RESOURCES available.
Please note:  Information provided on this site might change so please call the specific contact for current information. 
LBD affects every aspect of a person. The combination of cognitive, motor and behavioral symptoms creates a highly challenging set of demands which is why caregiver burden is extremely high. Symptoms include: impaired thinking, problems with motor skills and movement, hallucinations, unpredictable fluctuations in cognition, sleep disorders, depression, apathy, changes in blood pressure, and more. At times, as one LBD caregiver noted: "None of it is easy. None of it makes sense."
IMPORTANT INSIGHTS ABOUT PEOPLE WHO HAVE LBD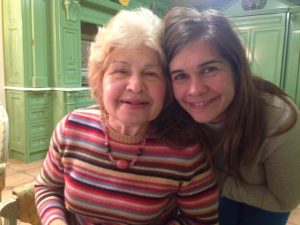 Emotions and Love make a big difference. People with LBD can feel your energy and are extremely sensitive to emotions and reactions. If you are angry or frustrated, they are able to feel that immediately and may very well react the same way.  Patience, understanding, quiet, and routine work best. Speak caringly and SLOWLY. Wait about 20 seconds for a reply. Limit the amount of activities you do in a day as well as the number of visitors at one time. It is quite common for people with LBD to feel overwhelmed or uncomfortable around too many people. Whether it's overstimulation, too much noise, too many things to grasp at once, it is best to keep groups small with minimally focused, upbeat conversations. Keep frustration and fears down.  IMPORTANT: Assure them you will handle anything they are anxious or upset about. Play soothing music if they enjoy it.
Try your best to create special moments for both of you.  Though this can be a very difficult disease, cherish the moments of connection that you have, which you would not have had otherwise.
"Though caregiving is some of the most difficult and demanding work that we will ever do–and demands great patience and strength of character–it is also a role for the courageous and the optimistic. Stay strong, celebrate each tiny victory, laugh when you can and cry when you must." – Tom & Karen Brenner, authors of You Say Goodbye and We Say Hello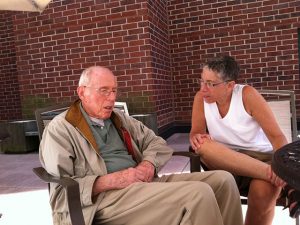 A short story from an elder man with dementia:
"Dale had been a farmer all of his life and was proud of the tractor he owned. A caring visitor showed him a photo of a tractor parked in high grass. He mentioned to Dale that this tractor looked like it had seen better days and was probably no longer working. Dale shook his head and said, "No, the tractor probably isn't broken; it's just parked in high grass. It's an old machine, alright, but she's probably got some good days in her yet. Sometimes, you have to look deeper to see what is really going on." – Tom & Karen Brenner, authors of You Say Goodbye and We Say Hello
EMPATHY – MEETING EMOTIONAL NEEDS & COMMUNICATION – Angela Lunde of the Mayo Clinic shared good advice at the International Dementia with Lewy Bodies Conferece in December, 2015:
Emotional Needs (Distress may arise when one of these are threatened.):
To feel respected
A sense of control
Useful and worthy
Need to give and receive love
Respect:  See the person, not the disease.  Lend them your mind without making them feel like a lesser person.
Control:  Avoid appearing too over-protective/controlling.  Keep them safe but don't treat like a child.  Give choices but don't overwhelm.  Include them in everyday decisions.
Usefulness:  See strengths, not deficits.
Love:  They need the opportunity to GIVE love as much as they need to receive it.
Communication:
Fine tune communication. Respond to repeated questions as if it's the first time.
Use positive language, i.e.: "It is 6:00.  It's usually the time you like to take out the garbage."
Allow people to feel free to talk
One person needs to speak at a time. Wait for a response.
Validate the emotion, i.e.: If a spouse thinks you are having an affair:  "I'm sorry you feel that way because I love you."
In addition to reading the information below, please also HOVER OVER THE 

CAREGIVING & SUPPORT

 TAB on the home page and click on the

STATE 

to access the MANY RESOURCES available.
In addition, here are very helpful Caregiving Tip Sheets and Resource Lists from the Alzheimer's Disease Education and Referral Center:
Behaviors
Everyday Care
Communication
Relationships
Legal and Financial Issues
Middle- and Late-Stage Care